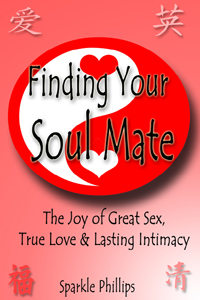 Finding Your Soul Mate
the joy of great sex, true love and lasting intimacy
Sparkle Phillips' last boy friend left her, and that was the best thing he ever did for her. That break up sent Sparkle's life into a tail spin where she was forced to re-examine what had been happening with her and her relationship with the opposite sex for the past 45 years.
Sparkle went through an amazingly revealing process that helped her destroy all the old programming she had about men and figure out why every relationship she'd had with men were basically carbon copies of each other. Once the culprit had been found, the false foundation of 'love' in her life was released and rebuilt. Now she is happily married to a man who can only be described as her soul mate and her partner in love, life, work and more.
Sparkle is a systems analyst. So being an observer, seeing patterns and determining solutions is what she does for a living and she does it well. When she realized her experience actually had duplicatable steps, she decided to re-live and re-analyze the steps it took her to release the past so that she could embrace the future. Her story is funny, insightful and very identifiable. If you're still having troubles in your love life, then this book will give you "Aha Moments" and help you realize some of the false foundations you've built your love life on.
Whether you're a man or woman
looking for a man or a woman,
these principles apply.
Finding Your Fortune
bridging the gap between you and your financial freedom
How do you bridge the gap from your current circumstances to a prosperous position? How do you get from a place of lack to a place where wealth is possible and the path to prosperity is an easy path to follow?
You have to live in your day-to-day experience. Many wealth teachers teach that you can not put your attention on your day-to-day experience if you want to get to a more abundant place. Yet, if you see no hope - no realistic 'how' - to get from here to there, the exercise is, quite frankly, pretty futile. Ignoring your day-to-day experience isn't necessarily understood by nagging spouses, hungry children and bill collectors...
What I decided I must do was to find something I could really believe in and let that take me to the place of believing in myself, and my bright future. I had to increase the believability factor of my personal abundance.
I had to find a tangible 'how' that had the possibility to take me there... because the hope that was generated from that could get me to a place of peace, a place of being able to visualize and to a place where I could quiet my own private dream-stealers. It didn't matter if that vision ever came true or panned out. What did matter was that I could imagine that I had an actual vehicle that could take me from here to there. So, I created that vehicle, got there and now "Finding Your Fortune" is intended to create just such a vehicle for you.
If you've studied with abundance instructors before - and you're still not where you want to be - this book will show you the likely reasons and help you get back in touch with those ideas. This book can stand on its own, even if you haven't been studying the works of the popular prosperity gurus, however Finding Your Fortune can help you fix your disconnect with the other prosperity trainings and get you on the fast track to finding your financial freedom.